Satellite position : 19E

To watch channels you need to use a new method through a modified oscam with iCam support!

Price per day: 0,13€

Price per month: 3,90€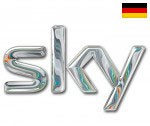 Earlier, the German satellite TV operator Sky Deutschland was knows as Premiere.
Since 2006, the operator has introduced a full HD quality package to view in the area of Germany and Austria.
Initially, the company presented the three channels:
Premiere Film HD, Premiere Philips Sport HD and Premiere Thema.
In 2006, Premiere Thema channel was renamed to Discovery HD.
At the same time, movie and sport channels have merged to a new channel – Premiere HD.
In 2009, Premiere satellite operator has been purchased by the British holding Sky Media and further renamed to Sky Deutschland.
Later on, the list of accessible channels has been expanded considerably. Currently, Sky Deutschland offers the most popular channels manufactured by the British holding Sky. Among them, Sky Cinema HD, Sky Action HD, Sky Cinema Hits HD, movie and sport channels produced specially for German viewers.
It wasn't quite the end of it.
In October, 2010, Sky Deutschland has started transmitting 3D TV-channel.
If you wish to watch top-rated German and British TV-channels and iconic entertainment and sport TV-shows, you may get connected to the Sky Deutschland on beneficial terms right now using cardsharing service.
Cardsharing has been created specially for viewers wishing to watch the best European channels without overpaying to the satellite operators.
For only a couple of US Dollars, you will get access to all high quality channels and without limitations and interference.
We do not offer pay per view channels (PPV) like a Sky Select, Blue Movie, etc